Left: Nash Quad Truck
of 1917 - 1918 era
Below: A Nash 2 wheel drive truck, circa 1920-22, hauling sugar beets. "Nash Greeley Motor Company" is legible on the banner.
Photo courtesy Greeley Museums, Greeley, Colorado. Thanks to Ken Kafka for sharing this picture.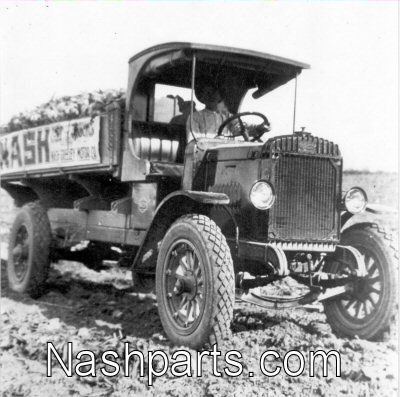 Left below: A unique custom made Nash Delivery Truck, made from a 1946 Ambassador chassis by a Long Island NY dealership.
Right below: A Nash truck which was used by the company in Wisconsin, finally sold to a Nash club member.
Here are two pictures from a 1948 Nash News issue announcing the introduction
of the Nash tow truck to dealerships.
Below are several examples of Nash dealership tow trucks:
Keith Geiman, owner of Keith's Auto Sales,
Dundee, Michigan,
with his Nash tow truck, about 1962.
A promo postcard from
Auto Truck Equipment Sales.
Another promo postcard, this one featuring the Holmes company, which were available along with the more common Ashton equipped tow trucks.
Postcards courtesy Alden Jewell.
Nash also exported many trucks, below are 3 examples,
Uruguay, South Africa and Iraq.
Especially interesting is the last picture of the
double deck bus made from the truck chassis.